When we want to talk about creating wealth and prosperity, we need to know as a matter of prerequisite knowledge that there are five pillars of wealth creation. 
Like moving from one destination to another, wealth creation is a journey. And as you know, when embarking on a journey, you need to be clear on where you are going" 
Below, I briefly explain the five pillars; 
1. Real Estate as a means of wealth creation
Investing in real estate is profitable anywhere in the world. However, to do so in the UK, all you need is a broker to guide you on how to buy a property. If you buy a property in the UK, it takes 8 -12 years for the property to double in value, that's assuming you buy a property for £200,000; in ten years', they can value it at £400,000. 
To achieve this, you can learn how to use other people's money. We refer to it as OPM. Although banks give loans to people to buy properties, sometimes they collect an interest of 10% or 25% leaving the individual with 90% or 75% respectively. 
That said, one of the biggest challenges of buying real estate is fear; fear of increasing interest rates, fear of tenants not paying rent, fear of losing property, etc, but the key to success is looking forward to positivity more than negativity. 
2. Business ownership as a means of wealth creation
It is easy to start a business, but kindly note that going into business is not just about starting a company, it's about solving a problem i.e., your business should solve a common problem in the society whether it's a consulting agency, in real estate, or an educational agency.
The beauty of running a business is that you get to recruit people to work for you, leaving you with more time to create and build capacity to solve more problems. There's no guarantee that the road will be rosy, so never forget that a failure is an event, so if you fail, try again because if you don't start on a journey, you can't go anywhere. 
3. Investment as a means of wealth creation
When we speak of the capital market, we talk about investment in stocks and shares. Taking a cue from Robert Kiyosaki's rich dad cash-flow quadrant, which shows four categories of financial intelligence; the employed, the self-employed, the business owner, and the investor.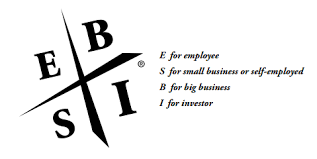 Being in the investment quadrant means you have your money working for you, you've invested your money in companies that understand the art of investing in stock and shares and have a good balance sheet. These companies will pay you dividends regularly. 
4. Sales and marketing as a means of wealth creation
We are in a digital world, so understanding digital marketing is highly critical these days. One's ability to make money online is a significant advantage.
 An example of a digital marketing company is amazon; one of the biggest companies in the world. And Amazon is 'just' an e-commerce/online platform. These days, you can virtually market everything online, from products, events, webinars, courses, etc. 
5. Branding as a means of wealth creation 
This last pillar is a combination of other pillars. Be known for something, make a name for yourself, and get paid for it. For instance, if you are into real estate, brand yourself to a point that you get paid for attending real estate conferences, etc. 
The point here is to brand yourself as an authority in your space. 
Would you like to get a free 30 mins to get on a call with me to discuss any of the pillars of wealth creation and how I can help?